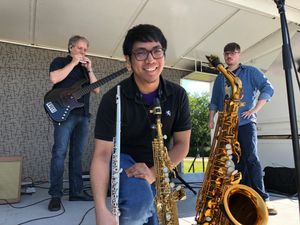 Brad Labio
Saxophones
 
Brad Labio has over 20 years of experience within the music industry. He began performing classical piano at a young age and moved on to jazz during his high school years. A native of Fort Worth, TX, he has had the opportunity to work with the City of Keller organizing music for art exhibits, churches, and youth organizations. 
​ 
Brad is a multi-instrumentalist, composer, producer, and audio engineer. He completed 4 years attending the University of North Texas pursuing a degree in Jazz Performance. During this time, Brad performed around the US with various groups and artists such as Jessy J, Wayne Bergeron, and Mike Williams of the Count Basie Orchestra. 
​ 
In 2017, Brad joined the Vince Lujan Project as the contracted saxophonist and he continues to regularly play gigs around the DFW area as well as around the US.